Monsuna is an artist collective formed in 2008 by musician and theater people from Copenhagen and Aarhus.
Hovedformålet for gruppen er, at møde andre kulturer og bruge den dynamik som det giver. Første kulturmøde foregik på en turne rundt om Østersøen med musikforestillingen Everybody dies for a reason. Forestillingen blev til undervejs og sluttede i sin endelige form i København på Vildskud Teaterfestival 2008. Monsuna udforsker samspillet mellem musik og teater og har en forkærlighed for masker. Monsuna arbejder med en montageform i et minimalistisk univers.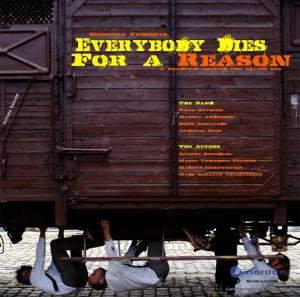 First performance was a road trip round the Baltic sea with the performance "Everybody dies for a reason". Between the 27th of July and the 24th of August 2008 we played in Germany, Poland, Lithuania, Latvia, Estonia, Finland, Sweden and Denmark.
Monsuna on the road was: Musicians: Niels Ørts Ottosen, Marika Thinggaard Andersen, Andreas B Bech and Sofie Mortvedt. Actors: Mads Schaltz Christensen, Maria Victoria Felipini, Magnus Christensen and Bjarne B. Stendahl.
(The performance was supported by Nordic Theatre Council, DATS and NAR).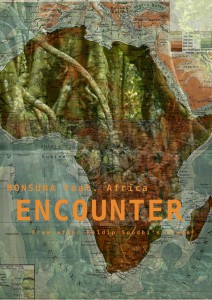 Second performance Encounter was Monsuna feat. Africa. With the Kenyan drama Encounter as the spine for the performance Monsuna takes you deep into the damp African jungle where the Mau Mau is fighting the British colonial power. Is it terrorism or the African revolution? Obama and Blixen traveled to Kenya to find an answer, now we ask you to come with us through this montage performance of meetings of cultures. – It's war and prejudices! – It's music and magi! -It's Africa! Lossly based on the drama "Encounter" by Kuldip Sandhi.
The performance was in English and played on Vildskud 2012.
Cast: Alfred Tamakloe (Actor and Musician), Michael Omoke (Actor), Michael P. Simpson (Actor), Peter Ulrik Jensen (Actor),Purity Makena (Actor), Rose Broholm (Actor), Rute Sanches (Actor), Salik Rehman (Actor), Mads Malik Grosos (Actor) and Martin Njue (Actor).
Bjarne B. Stendahl (Director and Dramaturg), Niels Ørts Ottosen (Composer and Musician), Anne-Maria Dobsa (Production Manager), Frederikke Zingraf Vesterskov (Scenographer), Mikkel Martin Jelstrup Wiberg (Scenographer assistant), Susanne Lyager (Costumier) And CheChe Couture (Costumier).
(The performance was supported by DATS).